No seriously, she fixed the little round window! It was so messed up and now it's perfect. You can remove
aytinap's window
if you had it before.

Here's the last of the m&g build sets in 3 non-colors - yay! Will you look at that TURQUOISE glass in the bay window? OMG maxis >:|
It includes the column, door, 2-tile window, bay window, small round window, the columned fence, an edited column-less fence AND the brick walls seen below. Also included are the architectural cornices plus a shingle texture and an iron texture for the roof pieces.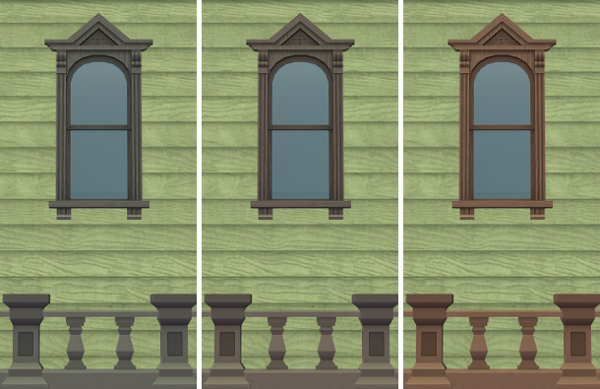 ts3 wishing window
- mesh included
alternate
HCove converted the s3 window seen above - it's not part of the collection but it's so cute and pointy! You can also see the column-less fence better too. Hope you like :)
Thanks, credits, and recommendations:
wildchild111
's
s3 window
(gift to glennisonfire)
leesester's
2nd empire add-ons
suefemme's
empire arch
tbudgett's
extendable empire arch
feenwald's
roof elements
(aka julsfels
here
)
HugeLunatic's
roof edgers
HugeLunatic's
edits
of aytinap's roof windows and pieces
HugeLunatic's
window fix
:D
shakeshaft's
short epee fencing
Hic!
Drinking game! Take a shot every time I mention HugeLunatic, *drinks* thank HugeLunatic, *drinks* credit HugeLunatic, *drinks* recommend something by HugeLunatic, *drinks* or link to a creation/mod/fix by HugeLunatic. *drinks* Besh... drinkinn... game... evurrr... Hic.
Current Mood:

sleepy