curiousb
! I'm two days late *shame-faced* but I know a January First birthday is kind of hard to share with New Year's Day type celebrations so... This post is supposed to be ALL about CuriousB and presents (!) but I need to make room for a "revolvertrooper celebratory appreciation section" too ^-^ I needed help with parts of this set and asked
revolvertrooper
, the most helpful most generous under-the-radar simmer. They are like an undercover simmer spy, full of smarts and know-how
and nice points ♥
and you will all be very surprised to learn I have crushes on revolvertrooper
and
CuriousB.
I've got so much love to give
:D
On to the presents! My blind date made me
the most lovely set of gifts
last year - the beds and end tables with goat's wood texture in some of the prettiest colors ever are ending up in all my houses. I took some of those colors and
goat's wood texture
and combined them with the Easy Living Entertainment set from the Well-Dressed Sim. I slaved the bookcase, tv center, and stereo unit to the basegame colonial bookcase, also the actual stereo and tv to their base-game counterparts. And then I slaved the ApartmentLife secret bookcases to the colonial bookcase too. I know
hafiseazale
(holla!) already made a
zCEP-extra fix
for all these bookcases too but this way you can still use the wds set even if you don't have ApartmentLife.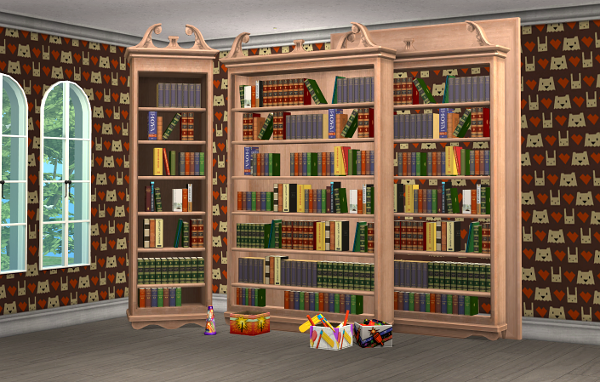 I was struggling with the books, enter revolvertrooper! They let me include their super-cool little fix: the bg colonial bookcase and bg nouveau bookcase now share the cheap bookcase (Craftmeister Booknook) book textures. They also helped with my CEP file: the al secret bookcases also share the Craftmeister book textures, plus a correction of EA's "mysterious" typo, you can remove Menaceman44's
fix
if you had it. Thank you, revolvertrooper!
Please let me know if the base-game versions are causing any problems, I really want to fix them if so :)
CuriousB, I hope you had a nice regular birthday earlier and that you have a wonderful unbirthday sometime soon!
♥
By the way, I'm completely
undone
by that yetiland wallpaper - LOOK AT IT :3
Happy birthday,
Current Mood:

happy